Reliable Information for a Healthier Life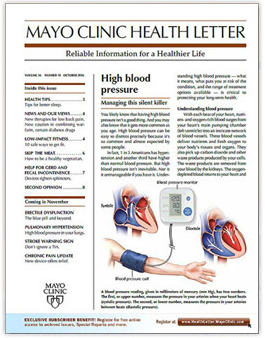 Mayo Clinic Health Letter
Get direct access to the knowledge, wisdom, advice and practical information on healthy aging from Mayo Clinic, one of the world's foremost health authorities. Each 8-page issue of Mayo Clinic Health Letter is filled with reliable, accurate and practical information on today's health and medical news.
Articles draw upon the knowledge of over 3,700 Mayo Clinic physicians. The result is an interesting and informative mix of topics such as arthritis, high blood pressure, heart disease, nutrition, exercise, new medical treatments, and more. Discover for yourself why Mayo Clinic Health Letter is one of the leading health newsletters in the nation.
SUBSCRIBE NOW:
OUR GUARANTEE - If at any time you feel we're not delivering a full measure of value, you may cancel at any time and receive a prompt refund. No questions asked. Less than one percent of subscribers ever do.
Each month look for these popular columns:
Health Tips. Every month a common health topic is featured from healthy aging to serious health conditions.
News and Our Views. Get the latest medical research results and news from Mayo Clinic's researchers and doctors.
Second Opinion. This column features questions submitted by Health Letter subscribers. Check here every month for straight answers to common medical questions, or submit your own question!
PLUS:
Full Color Medical Illustrations to enhance your understanding of important medical topics covered.
---
Subscription Options
PRINT EDITION
$31.52

Your annual subscription includes:
Convenience of home delivery

Twelve monthly 8-page printed issues

Four full-color Special Reports

Convenient year-end index
Canada, $47.52/yr. (US funds)
Not available outside the US or Canada
KINDLE EDITION
$11.99

Your annual subscription includes:
Instant access to monthly issues
Four full-color Special Reports
Fast delivery method
Works on all platforms: Tablet, phone, PC, Mac
DIGITAL EDITION
$9.99

Your annual subscription includes:
Instant access to current and past issues
Four full-color Special Reports
Fastest delivery directly to your inbox
Searchable, extensive library of articles
Works on all platforms: Tablet, phone, PC, Mac